Over this past year, I've been exploring new genres and branching out the types of books I read. One thing that I found out this year was that I freaking love fantasy. It's becoming to be a problem by pretty much rivaling all the other types of books I read. So at no surprise I'm reviewing Falling Kingdoms a fantasy series. Well the first three, there is going to be six books in this series. Which I am looking forward to. Anyways without further ado, a spoiler free review. (It was so hard to write it without spoilers, I had to keep a lot of it super vague but hopefully it makes somewhat sense.)
Falling Kingdoms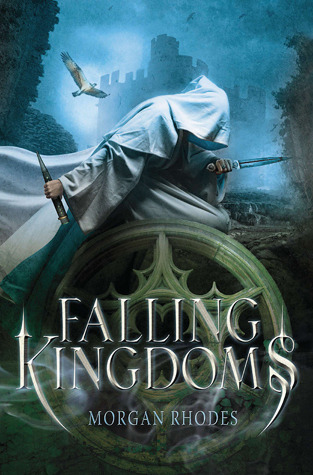 Falling Kingdoms is the start to a high YA fantasy. Taking place in a world named Mytica, Falling Kingdoms follows four young characters in rival kingdoms. Cleo is the younger Princess of Auranos, she isn't the heir to the throne so her interests were solely on having a good time. While in the struggling kingdom of Paelsia lives Jonas. A boy with a rebellious spirit and a strong sense of righteous. Add in Lucia and Magnus; daughter and son of the bloodthirsty king of Limeros. And you have YA fantasy epicness.
Sorry I'm not the best at summarizing books. But hopefully you just the jist of it (if not click on the cover for the goodreads.) Anyways, I thought the world building in this one did a wonderful job. I was able to get a visual and feel of what this world is and what it is only to become, which kept me vividly into the story. I was able to get an understanding about the world's magic and the rivalry between the kingdoms and why things are the way there are. But some of the concepts were hard to follow at first, but they get explained later in the series.
I loved this one, but it had some parts that I wish were just not there. There were some plot lines that were meant to strengthen the character but I didn't like how it was done. I believe there could of been a better way of doing so. I also had  problems with certain characters, which led me to just hate them. I also felt like the author was making us side with only one person and one person only. Not giving much room for the other characters to stand out.
Although, I had some issues with this first one. I still enjoyed it, and it pulled me into this world. Which is the only thing that really matters to me. After finishing it, I couldn't wait to get my hands on the next one. I was left with so many questions that needed to be answered.
Rebel Springs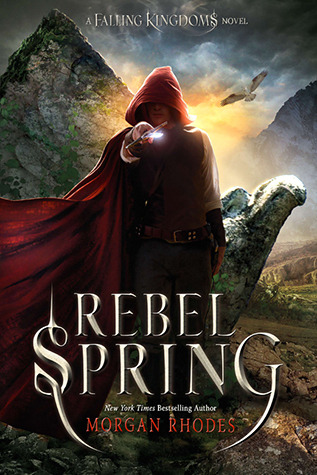 This was an great sequel. The pacing was steady, never losing my interest but much toned down than the first book. It really expanded my view on all the characters good and bad. Bringing in already minor characters and giving them more of a voice. I enjoyed this book for different reasons than I enjoyed Falling Kingdoms. This one dealt with a lot of the conquences that each action has, it focused on the characters coping with everything. And becoming stronger for it. In this one I felt the characters truly finding a place in this story and in themselves.
This book has it's flaws. One being that some parts felt like a deja vu from the first one. And it was a bad idea in the first one. But you know the character just thought it was still a bright idea, and did it all over again. I literally rolled my eyes with how this one character was acting throughout the book. Fingers crossed they learned their lesson. And get a lot of character development in. Cause you need it.
Gathering Darkness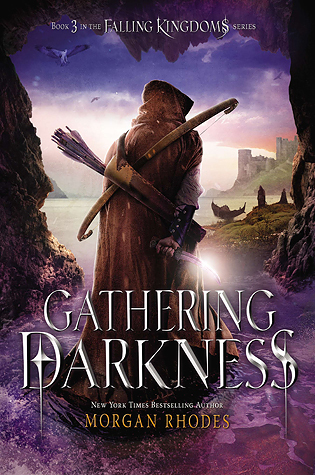 The lovely third. I just love the title of this one, Gathering Darkness it gives off a eerie vibe. But still give you a feeling that something big is starting up. Which is exactly what this book did. It pulled plot lines together, filled in most of the gaps, widen the world and it set up the rest of this series. I can't say much without spoiling everything but I was very pleased. Sure a lot of the plot 'twists' were very very predictable. But that didn't make it any less enjoyable. The characters are finally starting to cross boarders with each other, making for interesting scenes. Two new characters join the mist and make things very interesting, probably even changing the course of this series. And finally I can say I have no idea what direction this series is going to take. Only that I'm ready for the next one.
Have you read this one yet? Thinking about it? It definitely is one to give a try.